Hypoallergenic Small Dogs
ROYAL CANIN® Hypoallergenic Small Dogs - Complete dietetic feed for adult dogs. Formulated to reduce ingredient and nutrient intolerances. Selected sources of protein and carbohydrate.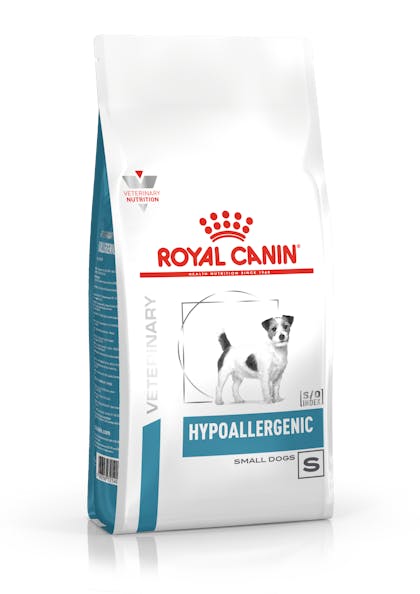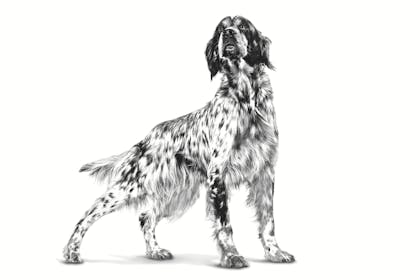 Hydrolysed protein

Hydrolysed protein with low molecular weight to help reduce the risk of nutrient intolerance.

Low RSS

Helps lower the concentration of ions contributing to crystal formation.

Skin barrier

Formulated to support the skin's natural protective barrier for optimal skin health.

Dental health

Contains specific nutrients which contribute to maintaining good oral health.
ANALYTICAL CONSTITUENTS: Protein: 24.0% - Fat content: 16.0% - Crude ash: 8.4% - Crude fibres: 0.7% - Per kg: Essential fatty acids (linoleic acid): 37.3g- Calcium: 8.0g- Magnesium: 0.7g- Phosphorus: 6.0g.

| Dog's weight | Thin | - | Normal | - | Overweight | - |
| --- | --- | --- | --- | --- | --- | --- |
| 2 kg | 54 g | 5/8 cup | 48 g | 1/2 cup | 41 g | 3/8 cup |
| 2.5 kg | 64 g | 5/8 cup | 56 g | 5/8 cup | 49 g | 4/8 cup |
| 3 kg | 73 g | 6/8 cup | 64 g | 5/8 cup | 56 g | 5/8 cup |
| 3.5 kg | 82 g | 7/8 cup | 72 g | 6/8 cup | 62 g | 5/8 cup |
| 4 kg | 91 g | 1 cup | 80 g | 7/8 cup | 69 g | 6/8 cup |
| 5 kg | 107 g | 1+1/8 cups | 94 g | 1 cup | 82 g | 7/8 cup |
| 6 kg | 123 g | 1+2/8 cups | 108 g | 1+1/8 cups | 94 g | 1 cup |
| 7 kg | 138 g | 1+4/8 cups | 122 g | 1+2/8 cups | 105 g | 1+1/8 cups |
| 8 kg | 153 g | 1+5/8 cups | 134 g | 1+3/8 cups | 116 g | 1+2/8 cups |
| 9 kg | 167 g | 1+6/8 cups | 147 g | 1+4/8 cups | 127 g | 1+3/8 cups |
| 10 kg | 181 g | 1+7/8 cups | 159 g | 1+5/8 cups | 137 g | 1+3/8 cups |