Urinary U/C
ROYAL CANIN® Urinary U/C - Complete dietetic feed for adult dogs. Formulated to reduce the formation of urate and cystine stones through its low level of protein and of purines, its high quality protein, its moderate level of sulphuramino acids and its urine alkalisin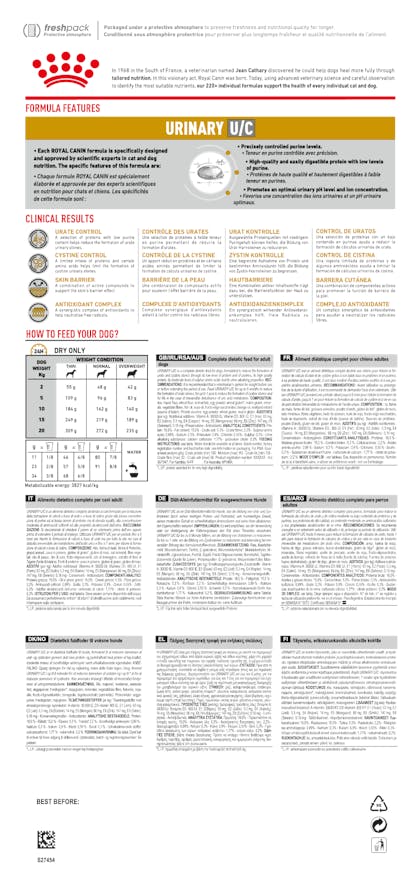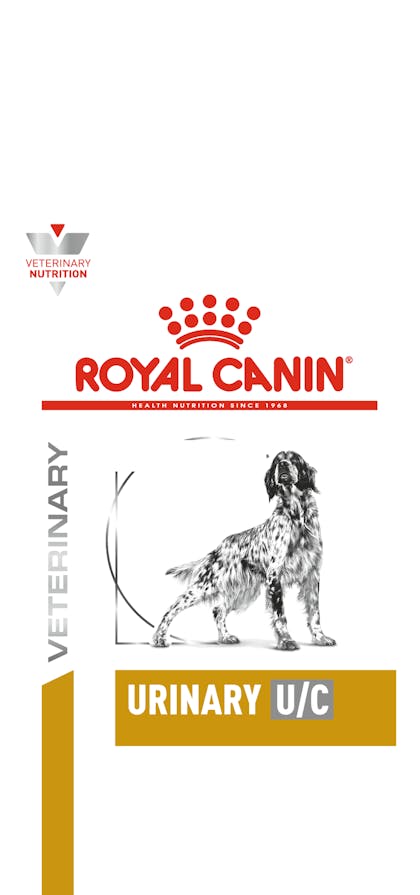 Urate control

A selection of proteins with low purine content helps reduce the formation of urate urinary stones.

Cystine control

A limited intake of proteins and certain amino acids helps limit the formation ofcystine urinary stones.

Skin barrier

A combination of active compounds to support the skin's barrier effect

Antioxidant complex

A synergistic complex of antioxidants to help neutralise free radicals.

Complete dietetic feed for adult dogs. Formulated to reduce the formation of urate and cystine stones through its low level of protein and of purines, its high quality protein, its moderate level of sulphuramino acids and its urine alkalising properties.ROYAL CANIN® Urinary U/C is formulated with the nutritional needs of dogs with urinary concerns in mind and is available in 14kg bags. ROYAL CANIN® Urinary U/C contains a specific selection of proteins help to reduce the likelihood of harmful urate stones forming in your dog's bladder. Thanks to the specific inclusion of proteins and some amino acids, ROYAL CANIN® Urinary U/C's exclusive formula also contributes to limiting the formation of cystine urinary stones. ROYAL CANIN® Urinary U/C's tailored complex of nutrients help to support the naturally protective barrier role of your dog's skin. Thanks to its synergistic complex of antioxidants, ROYAL CANIN® Urinary U/C also helps to neutralise the harmful effects that free radicals can have on your dog's cells. As part of the ROYAL CANIN® Veterinary Range, it is important that this product is only given to your pet when recommended by a veterinary professional.
ANALYTICAL CONSTITUENTS: Protein: 18.0% - Fat content: 15.0% - Crude ash: 5.3% - Crude fibres: 2.2% - Sulphur amino acids: 0.89% - Sodium: 0.3% - Potassium: 0.9% - Chloride: 0.55% - Sulphur: 0.3% - Urine alkalising substances: calcium carbonate: 1.77% - potassium citrate: 0.2% .

| Weight of dog | Thin | cup | Normal | cup | Overweight | cup |
| --- | --- | --- | --- | --- | --- | --- |
| 2 kg | 55 g | 5/8 | 48 g | 4/8 | 42 g | 4/8 |
| 4 kg | 92 g | 1 | 81 g | 7/8 | 70 g | 6/8 |
| 6 kg | 125 g | 1+3/8 | 110 g | 1+2/8 | 95 g | 1 |
| 8 kg | 155 g | 1+6/8 | 137 g | 1+4/8 | 118 g | 1+2/8 |
| 10 kg | 184 g | 2 | 162 g | 1+6/8 | 140 g | 1+4/8 |
| 15 kg | 249 g | 2+6/8 | 219 g | 2+3/8 | 189 g | 2+1/8 |
| 20 kg | 309 g | 3+3/8 | 272 g | 3 | 235 g | 2+5/8 |
| 25 kg | 365 g | 4 | 321 g | 3+4/8 | 278 g | 3 |
| 30 kg | 419 g | 4+5/8 | 368 g | 4 | 318 g | 3+4/8 |
| 35 kg | 470 g | 5+1/8 | 414 g | 4+4/8 | 357 g | 3+7/8 |
| 40 kg | 520 g | 5+6/8 | 457 g | 5 | 395 g | 4+3/8 |
| 45 kg | 568 g | 6+2/8 | 499 g | 5+4/8 | 431 g | 4+6/8 |
| 50 kg | 614 g | 6+6/8 | 541 g | 5+7/8 | 467 g | 5+1/8 |
| 55 kg | 660 g | 7+2/8 | 581 g | 6+3/8 | 501 g | 5+4/8 |
| 60 kg | 704 g | 7+6/8 | 620 g | 6+6/8 | 535 g | 5+7/8 |
| 70 kg | 791 g | 8+5/8 | 696 g | 7+5/8 | 601 g | 6+5/8 |
| 80 kg | 874 g | 9+5/8 | 769 g | 8+3/8 | 664 g | 7+2/8 |