Renal Feline Dry
Complete dietetic feed for adult cats.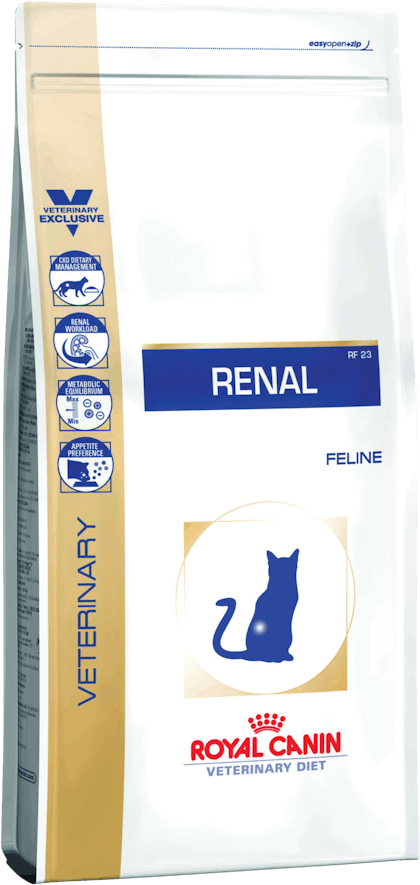 CKD Dietary management

Formulated to support renal function in case of chronic kidney disease. Contains EPA and DHA, a complex of antioxidants and a low phosphorus level.

Reduce renal workload

Increased kidney workload may induce uremic crisis. An adapted content of high quality protein helps reduce kidney workload.

Metabolic equilibrium

Chronic kidney disease can lead to metabolic acidosis. Formulated with alkalinizing agents.

Appetite preference

Designed aromatic profile helps answer to cat's specific preference.

4B. FORMULA FEATURES

4B. Low phosphorus and adapted protein content.

4C. FORMULA FEATURES

4C. Enriched with EPA+DHA and antioxidants.
Renal is a complete dietetic feed for cats formulated:- to support renal function in the case of chronic or temporary renal insufficiency, through its low level of phosphorus and high quality protein- to reduce oxalate stone formation, through its low level of calcium and vitamin D, and its urine alkalising properties. Recommendations: It is recommended that a veterinarian's opinion be sought before use or before extending the period of use. Initially feed Renal for up to 6 months in cases of chronic renal insufficiency and reduction of oxalate stone formation. For cases of temporary renal insufficiency a period of 2 to 4 weeks feeding is recommended.

Composition: maize flour, rice, animal fats, wheat gluten*, vegetable fibres, maize gluten, soya protein isolate*, maize, hydrolysed animal proteins, minerals, chicory pulp, dehydrated poultry protein, fish oil, soya oil, mono - and diglycerides of palmitic and stearic acids esterified with citric acid, psyllium husks and seeds, fructo-oligo-saccharides, marigold extract (source of lutein). Protein sources: wheat gluten*, maize gluten, soya protein isolate*, hydrolysed animal proteins, dehydrated poultry protein.

Additives (per kg): Nutritional additives: Vitamin A: 22000 IU, Vitamin D3: 800 IU, E1 (Iron): 45 mg, E2 (Iodine): 4.5 mg, E4 (Copper): 14 mg, E5 (Manganese): 59 mg, E6 (Zinc): 124 mg, E8 (Selenium): 0.08 mg - Technological additives: Clinoptilolite of sedimentary origin: 10 g - Preservatives - Antioxidants.

Analytical constituants: Protein: 23.0% - Fat content: 17.0% - Crude ash: 5.8% - Crude fibres: 4.6% - Calcium: 0.6% - Phosphorous: 0.3% - Potassium: 0.9% - Sodium: 0.4% - Magnesium: 0.07% - Chloride: 1.07% - Sulphur: 0.3% - Vitamin D (total): 800 IU - Hydroxyproline: 0% - Essential Fatty acids: 3.3% - EPA and DHA: 0.42%. Urine alkalising substances: potassium citrate - calcium carbonate.

| Cat weight | Thin | - | Normal | - | Overweight | - |
| --- | --- | --- | --- | --- | --- | --- |
| - | (g) | Cup | (g) | Cup | (g) | Cup |
| 2 kg | 39 | 3/8 | 32 | 3/8 | - | - |
| 3 kg | 52 | 4/8 | 43 | 4/8 | - | - |
| 4 kg | 64 | 5/8 | 53 | 4/8 | 42 | 4/8 |
| 5 kg | 74 | 6/8 | 62 | 5/8 | 50 | 4/8 |
| 6 kg | 85 | 7/8 | 71 | 6/8 | 56 | 5/8 |
| 7 kg | 95 | 1 | 79 | 7/8 | 63 | 5/8 |
| 8 kg | 104 | 1 + 1/8 | 87 | 7/8 | 69 | 6/8 |
| 9 kg | 113 | 1 + 2/8 | 94 | 1 | 75 | 6/8 |
| 10 kg | 112 | 1 + 3/8 | 102 | 1 + 1/8 | 81 | 7/8 |