DIABETIC
Complete dietetic feed for adult dogs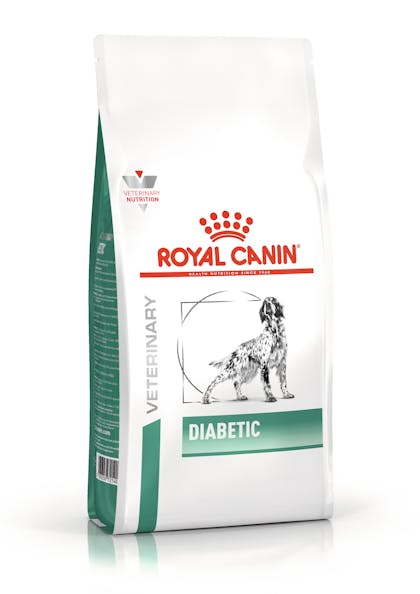 5A.GLUCOMODULATION

Specific formula to help in the management of post-prandial blood glucose in diabetic dogs.

5B. HIGH PROTEIN

High protein content. Maintenance of muscle mass is essential in diabetic dogs.

5C. LOW STARCH

Formula that contains a reduced level of starch.

BRAND TEXT VETERINARY

In 1968 in the South of France, a veterinarian named Jean Cathary discovered he could help dogs heal more fully through tailored nutrition. In this visionary act, ROYAL CANIN® was born. Today, using advanced veterinary science and careful observation to identify the most adapted nutrients, our 220+ individual formulas support the health of every individual cat and dog.

SENSITIVITIES

2A. A diabetic dog does not produce sufficient insulin or cannot utilise it normally so his blood sugar levels elevate. This can cause many health issues.

SENSITIVITIES

2B. Eating a meal results in a rise of blood glucose levels. In diabetic dogs, the goal is to maintain the levels within a safe range throughout the day.
Where to recycle
Royal Canin Feline Ultamino is a veterinary-exclusive dry cat food for adult cats with food sensitivities needing a short-term elimination diet or long-term nutrition
Home
Complete dietetic feed for adult dogs

ROYAL CANIN® DIABETIC dry is a complete dietetic feed for dogs, formulated for the regulation of glucose supply (Diabetes mellitus). Low level of mono- and disaccharides. RECOMMENDATIONS: It is recommended that a veterinarian's opinion be sought before use and before extending the period of use. Feed DIABETIC dry initially up to 6 months.

COMPOSITION: Dehydrated poultry protein, barley, wheat gluten*, maize gluten, vegetable fibres, hydrolysed animal proteins, animal fats, beet pulp, tapioca, fish oil, psyllium husks and seeds, fructo-oligo-saccharides, minerals, marigold extract (source of lutein). Sources of carbohydrates: barley, tapioca.

ADDITIVES (per kg): Nutritional additives: Vitamin A: 15500 IU, Vitamin D3: 1000 IU, E1 (Iron): 33 mg, E2 (Iodine): 3.4 mg, E4 (Copper): 10 mg, E5 (Manganese): 43 mg, E6 (Zinc): 125 mg, E8 (Selenium): 0.05 mg - Preservatives - Antioxidants.

ANALYTICAL CONSTITUANTS: Protein: 37.0% - Fat content: 12.0% - Crude ash: 5.3% - Crude fibres: 6.5% - Starch: 19.1% - Total sugars: 0.55% - Essential fatty acids: 2.07%.

FOR RSA: Guaranteed analysis g/kg: Crude protein (min) 350 - Moisture (max) 110 - Crude fat (min) 100 - Crude fibre (max) 75 - Crude ash (max) 58. Product registration number: XXXXXX - Act 36/1947. For Namibia: N-FF XXXX.

* L.I.P.: protein selected for its very high digestibility.

FEEDING INSTRUCTION: FEEDING INSTRUCTIONS: see table. Weight shown in the table is the target body weight. Batch number, factory registration number and best before date: see information on packaging. To be stored in a cool, dry place.

| Dog weight (kg) | Thin | - | Normal | - | Overweight | - |
| --- | --- | --- | --- | --- | --- | --- |
| - | (g) | Cup | (g) | Cup | (g) | Cup |
| 2 | 61 | 5/8 | 54 | 5/8 | 46 | 4/8 |
| 4 | 103 | 1 + 1/8 | 91 | 1 | 78 | 7/8 |
| 6 | 139 | 1 + 4/8 | 123 | 1 + 3/8 | 106 | 1 + 1/8 |
| 8 | 173 | 1 + 7/8 | 152 | 1 + 5/8 | 131 | 1 + 3/8 |
| 10 | 205 | 2 + 2/8 | 180 | 2 | 155 | 1 + 5/8 |
| 15 | 277 | 3 | 244 | 2 + 5/8 | 211 | 2 + 2/8 |
| 20 | 344 | 3 + 6/8 | 303 | 3 + 2/8 | 261 | 2 + 7/8 |
| 25 | 407 | 4 + 3/8 | 358 | 3 + 7/8 | 309 | 3 + 3/8 |
| 30 | 466 | 5 | 410 | 4 + 3/8 | 354 | 3 + 7/8 |
| 35 | 523 | 5 + 5/8 | 461 | 5 | 398 | 4 + 2/8 |
| 40 | 578 | 6 + 2/8 | 509 | 5 + 4/8 | 440 | 4 + 6/8 |
| 45 | 632 | 6 + 7/8 | 556 | 6 | 480 | 5 + 2/8 |
| 50 | 684 | 7 + 3/8 | 602 | 6 + 4/8 | 520 | 5 + 5/8 |
| 55 | 735 | 8 | 646 | 7 | 558 | 6 |
| 60 | 784 | 8 + 4/8 | 690 | 7 + 4/8 | 596 | 6 + 4/8 |
| 70 | 880 | 9 + 4/8 | 775 | 8 + 3/8 | 669 | 7 + 2/8 |
| 80 | 973 | 10 + 4/8 | 856 | 9 + 2/8 | 739 | 8 |